Parks & Conservation Areas
Vanderwater Conservation Area
This lovely outdoor destination is picturesquely located along the banks of the Moira River, where the water cascades over a series of limestone steps. The 635 acre Conservation Area has 15 km of trails that explore a wide range of natural environments from mature cedar forests in the low lying areas to hardwood and coniferous forests that cover the slopes and high ground. S steep ridge runs the length of the property and several spots along the trails afford scenic views. Vanderwater offers: generous parking, picnic areas, hiking, biking, horseback riding, and cross country trails. (The ski trails are not groomed).
Vanderwater Rd, R.R.#2, Thomasburg, Ont. K0K 3H0 613-968-3434
Tweed Memorial Park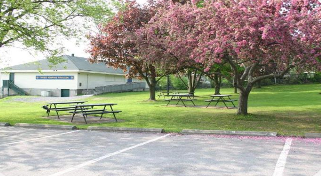 The beautiful park sits on the west shoreline of Stoco Lake and boasts many attractions such as the Cenotaph, The Lone Wolf Statue (sculpted by a local artist), a large playground, The Kiwanis Pavilion, as well as a picnic shelter, ball diamond/small soccer pitch, as well as a public boat launch and beach. The park hosts many events within the Municipality such as Music in the Park and Annual Events like Art in the Park, Flowerama, the Horticultural Society Plant Sale, & Canada Day festivities! It is a popular spot for stop overs and for passers by including family reunions, picnics, and outings! The boat launch is a public access launch to Stoco Lake. Enjoy fishing, boating, skating and much more on this beautiful lake.
45 Victoria St. S. Tweed Ont. K0K 3J0 613-478-2535
Lester B. Pearson Peace Park
The Peace Park is the Centennial project of Roy and Priscilla Cadwell who donated the land for the Peace Park. The park features trails, a peace Pagoda Shrine that was a gift from the Japanese people to the people of Canada as a symbol of peace and friendship between the east and the west. A Mother's Shrine on behalf of the 100,000 Canadian Mother's who lost son's in the First and Second World War is also erected in the park. Located right on Highway #7, come take a visit to the Peace Park today. Envelopes are available for tax deductible donations.
108087 Hwy #7, Tweed Ont. K0K 3J0 613-478-2744
Price Conservation Area
A perfect setting for family picnics on a hot summer day. Situated along a beautiful stretch of the Skootamatta River, the area is rich in flora and fauna. There is a white pine plantation, but the area is predominantly mixed forest with wet and marshy land in the low lying areas. A large, scenic concrete dam restricts the flow of the river which then enters a gorge . Along the edge of the gorge are beautiful stands of mixed forest, making a trip to this area worthwhile for the scenery alone.
Located in Actinolite near the junction of Hwy #7, and Hwy #37.